The day Deepwater Horizon sank – level 2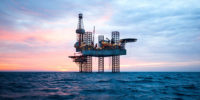 22-04-2010
Deepwater Horizon was a modern oil rig. It took oil from the ground under the sea in the Gulf of Mexico.
On April 20, 2010, there was a big concentration of methane on the rig. It caused a series of explosions which resulted in a big fire. The fire was visible from 40 kilometers away.
Eleven workers were killed in the accident and others were injured. The rig was evacuated. The injured workers were taken to hospital.
36 hours after the first explosion, Deepwater Horizon sank on April 22. 2010. The biggest problem was that the hole in the ground under the sea was still open. Oil was coming out of the hole. People tried to close it, but they didn't succeed. A lot of oil was coming from the hole for many days. A big area of the sea was affected.
Finally, on July 15 people were able to close the hole, but it was too late. The oil already caused a big environmental disaster in the sea and on the coast of the United States. Many animals died during this disaster.
Difficult words: rig (a machine which takes oil from the ground under the sea), methane (a gas which people use for cooking), visible (possible to see), sank (went underwater), environmental (connected to nature).
What do you think about this day?
LEARN 3000 WORDS with DAYS IN LEVELS
Days in Levels is designed to teach you 3000 words in English. Please follow the instructions
below.
How to improve your English with Days in Levels: 

Test
Do the test at Test Languages.
Go to your level. Go to Level 1 if you know 1-1000 words. Go to Level 2 if you know 1000-2000 words. Go to Level 3 if you know 2000-3000 words.

Reading
Read two new articles article at Days in Levels every day.
Read one previous article too and check if you remember all new words.

Listening
Listen to the new article and read the text at the same time.
Listen to the new article without reading the text.

Writing
Answer the question under the new article and write your answer in the comments.