The day communists took control over Russia – level 3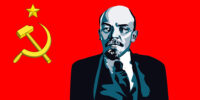 07-11-1917
On November 7, 1917, Bolsheviks in Saint Petersburg are preparing an attack on the Winter Palace which is the seat of the government of Russia. The palace isn't very well guarded. When the Bolsheviks attack, there is a short fight, but the defenders give up quickly.
The prime minister escapes to organize his forces for a counterattack. The rest of the government is arrested by the Bolsheviks. In the meantime, the Bolsheviks also take over the key buildings in Saint Petersburg and now they control the main communication lines in the city.
Immediately after the leadership change, the Red Terror led by Lenin starts in Russia. Thousands of people from the opposition are arrested, tortured, and killed without trial. At the same time, the civil war begins, in which the Bolsheviks fight the opposition.
The Bolsheviks eventually win in 1920. However, the civil war leaves Russia in misery and chaos. At its end, 8 million people are dead. That's four times more than the number of Russians who died during World War I.
Difficult words: Bolshevik (somebody who supports the communist party in Russia in 1917), seat (the main building of an institution), Red Terror (political repression and killings done by the Bolsheviks), tortured (hurt cruelly again and again), trial (a process in a court), misery (great suffering).
What lasting effects did the Bolshevik Revolution have on Russia?
LEARN 3000 WORDS with DAYS IN LEVELS
Days in Levels is designed to teach you 3000 words in English. Please follow the instructions
below.
How to improve your English with Days in Levels: 

Test
Do the test at Test Languages.
Go to your level. Go to Level 1 if you know 1-1000 words. Go to Level 2 if you know 1000-2000 words. Go to Level 3 if you know 2000-3000 words.

Reading
Read two new articles article at Days in Levels every day.
Read one previous article too and check if you remember all new words.

Listening
Listen to the new article and read the text at the same time.
Listen to the new article without reading the text.

Writing
Answer the question under the new article and write your answer in the comments.