The day Chilean miners were rescued – level 3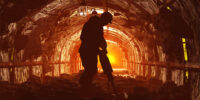 13-10-2010
On August 5, 33 Chilean miners became trapped 670 meters underground after a cave-in at a copper-gold mine in Chile. They were in a small, dark chamber with limited food, water, and oxygen.
The Chilean government quickly launched a massive rescue operation. For the next 17 days, rescuers tried to locate the trapped miners, eventually establishing contact on August 22. From that moment on, the rescuers were sending food, water, and medical supplies through an 8 cm hole.
An international team of experts started to work on a plan to safely pull out the miners. They drilled a bigger through the rock and designed a special capsule in which the miners could be transported one by one to safety.
On October 13, after 69 days, the world watched the miners emerge from the depths. They were greeted by relieved family members, friends, and rescuers.
Difficult words: cave-in (a moment when the roof of a mine falls), copper (a soft metal used in electrical wires), chamber (a room), capsule (a container that looks like an egg).
What do you think were some of the biggest challenges that rescuers faced in attempting to bring the miners to safety?
LEARN 3000 WORDS with DAYS IN LEVELS
Days in Levels is designed to teach you 3000 words in English. Please follow the instructions
below.
How to improve your English with Days in Levels: 

Test
Do the test at Test Languages.
Go to your level. Go to Level 1 if you know 1-1000 words. Go to Level 2 if you know 1000-2000 words. Go to Level 3 if you know 2000-3000 words.

Reading
Read two new articles article at Days in Levels every day.
Read one previous article too and check if you remember all new words.

Listening
Listen to the new article and read the text at the same time.
Listen to the new article without reading the text.

Writing
Answer the question under the new article and write your answer in the comments.