The day Charles III became king – level 3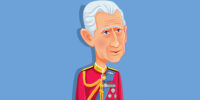 10-09-2022
On 10 September 2022, the United Kingdom witnessed a historic event as Prince Charles ascended the British throne as King Charles III, following the death of his mother, Queen Elizabeth II.
Prince Charles was born in 1948 and he became king at the age of 73, making him the oldest person ever to ascend the British throne.
King Charles III became the head of state not only for the United Kingdom but also for 15 other independent countries. These countries include Canada, Australia, New Zealand, and several Caribbean and Pacific nations.
Difficult words: ascend the throne (to become king).
What challenges did Prince Charles face as he transitioned from Prince to King of the United Kingdom and its associated countries?
LEARN 3000 WORDS with DAYS IN LEVELS
Days in Levels is designed to teach you 3000 words in English. Please follow the instructions
below.
How to improve your English with Days in Levels: 

Test
Do the test at Test Languages.
Go to your level. Go to Level 1 if you know 1-1000 words. Go to Level 2 if you know 1000-2000 words. Go to Level 3 if you know 2000-3000 words.

Reading
Read two new articles article at Days in Levels every day.
Read one previous article too and check if you remember all new words.

Listening
Listen to the new article and read the text at the same time.
Listen to the new article without reading the text.

Writing
Answer the question under the new article and write your answer in the comments.