The day Caesar crossed the Rubicon – level 1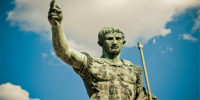 10-01-49 BC
Two thousand years ago, Rome is a republic. Rome is very big. Many countries are part of Rome. Three leaders control Rome. One of the leaders is Julius Caesar.
Caesar wants to control more countries. He wants to control Gaul. Gaul is a part of France. Caesar goes to Gaul.
Caesar is a very good leader. Soldiers in his army are ready to fight for him. They win many battles. Caesar is rich and popular. He is so popular that people in Rome start to fear him.
In 50 BC, leaders in Rome tell Caesar to return to Rome. Caesar prepares his army for the way home. They start their way home.
On January 10, 49 BC, Caesar's army reaches the border of the Roman Empire. The border is the Rubicon River. The law says that an army leader can return to Rome only without his army.
Caesar breaks this law. He crosses the Rubicon River with his army. He is on the way to Rome. When Caesar comes to Rome, he fights. He wins. He makes new laws. He is a dictator. He is a leader that everyone has to follow. He is the only leader of the Roman Empire.
Difficult words: fear (to be scared of something), return (to come back), reach (to come to a place), border (a line between two countries), law (a rule which says what people must do in a country), break (not to follow a law), cross (to go over something).
What effects did Caesar have on the Roman Empire after he crossed the Rubicon River with his army?
LEARN 3000 WORDS with DAYS IN LEVELS
Days in Levels is designed to teach you 3000 words in English. Please follow the instructions
below.
How to improve your English with Days in Levels: 

Test
Do the test at Test Languages.
Go to your level. Go to Level 1 if you know 1-1000 words. Go to Level 2 if you know 1000-2000 words. Go to Level 3 if you know 2000-3000 words.

Reading
Read two new articles article at Days in Levels every day.
Read one previous article too and check if you remember all new words.

Listening
Listen to the new article and read the text at the same time.
Listen to the new article without reading the text.

Writing
Answer the question under the new article and write your answer in the comments.