The day bungee jumping was invented – level 3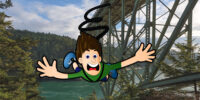 01-04-1979
The invention of bungee jumping is attributed to a group of students from the Oxford University, who performed the first jump on April 1, 1979. The jump took place on a bridge in Bristol, England.
The cord used in the jump was made of rubber and was purchased from a local store. The cord was 30 meters long.
The jumpers were arrested immediately after the jump, but the charges were later dropped.
The success of the jump led to the creation of commercial bungee jumping companies around the world, making it a popular extreme sport.
Difficult words: cord (a thin rope), charge (a statement saying that somebody did something illegal).
What is the longest jump performed since the invention of bungee jumping in 1979?
LEARN 3000 WORDS with DAYS IN LEVELS
Days in Levels is designed to teach you 3000 words in English. Please follow the instructions
below.
How to improve your English with Days in Levels: 

Test
Do the test at Test Languages.
Go to your level. Go to Level 1 if you know 1-1000 words. Go to Level 2 if you know 1000-2000 words. Go to Level 3 if you know 2000-3000 words.

Reading
Read two new articles article at Days in Levels every day.
Read one previous article too and check if you remember all new words.

Listening
Listen to the new article and read the text at the same time.
Listen to the new article without reading the text.

Writing
Answer the question under the new article and write your answer in the comments.