The day Amazon started – level 3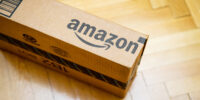 05-07-1994
Amazon.com was founded by Jeff Bezos on July 5, 1994, as a small online bookstore in his garage in Washington.
Bezos had previously worked in finance and had a passion for technology. He quickly realized that he could use the internet to offer a much larger selection of books than any physical bookstore and at lower prices.
Bezos chose the name "Amazon" because it was unique and memorable, conveying the idea of something big and powerful. The Amazon River is the largest river in the world by volume, and Bezos wanted his company to be just as large and powerful. He also liked that the name began with the letter "A," which would put the company at the top of alphabetical lists.
As Amazon.com grew in popularity, Bezos expanded its offerings beyond books to include music, movies, electronics, and more.
Today, Amazon.com is one of the world's largest and most successful companies.
Difficult words: memorable (easy to remember), convey (to communicate), offerings (things for sale).
What other services has Amazon.com expanded to offer since its founding in 1994?
LEARN 3000 WORDS with DAYS IN LEVELS
Days in Levels is designed to teach you 3000 words in English. Please follow the instructions
below.
How to improve your English with Days in Levels: 

Test
Do the test at Test Languages.
Go to your level. Go to Level 1 if you know 1-1000 words. Go to Level 2 if you know 1000-2000 words. Go to Level 3 if you know 2000-3000 words.

Reading
Read two new articles article at Days in Levels every day.
Read one previous article too and check if you remember all new words.

Listening
Listen to the new article and read the text at the same time.
Listen to the new article without reading the text.

Writing
Answer the question under the new article and write your answer in the comments.