The day Amazon started – level 1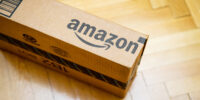 05-07-1994
Jeff Bezos starts Amazon.com on July 5, 1994. It is a small online shop. It sells books. It starts in a garage in Washington.
Bezos likes finance and technology. He thinks that an online shop is better than a traditional shop. He can sell more books. He can have lower prices.
Bezos likes the name "Amazon" because it is the same as the Amazon River. Bezos wants to have a big company like the Amazon River is.
Amazon.com becomes popular. It starts to sell more and more products.
Today, Amazon.com is a very big and successful company.
Difficult words: garage (a room for a car), successful (if something is successful, it makes a lot of money).
What is the significance of the Amazon River to Jeff Bezos's decision to name his online shop 'Amazon'?
LEARN 3000 WORDS with DAYS IN LEVELS
Days in Levels is designed to teach you 3000 words in English. Please follow the instructions
below.
How to improve your English with Days in Levels: 

Test
Do the test at Test Languages.
Go to your level. Go to Level 1 if you know 1-1000 words. Go to Level 2 if you know 1000-2000 words. Go to Level 3 if you know 2000-3000 words.

Reading
Read two new articles article at Days in Levels every day.
Read one previous article too and check if you remember all new words.

Listening
Listen to the new article and read the text at the same time.
Listen to the new article without reading the text.

Writing
Answer the question under the new article and write your answer in the comments.