The day Al Capone went to prison – level 1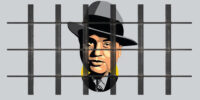 04-05-1932
It is 1925. Al Capone lives in Chicago. He is a gangster. He is also a businessman.
He controls important people in Chicago He controls the police, politicians, lawyers, journalists, and also judges. Al Capone has a big gang. They kill people who are against them.
Al Capone makes his money on illegal business with alcohol. He has always a good alibi.
Then, Al Capone makes a mistake. He doesn't pay taxes. A judge sends Al Capone to prison for 11 years.
On May 4, 1932, he goes to prison in Atlanta. From the prison, he continues to control his business.
After some time, he goes to Alcatraz. In Alcatraz, he is completely isolated from the outside world.
Difficult words: judge (a person who sends criminals to prison), illegal (not legal), alibi (something which shows that you don't do an illegal thing), tax (money which you pay to the government), Alcatraz (a prison in the USA), isolated (when you have no contact with other people).
How did Al Capone manage to control his business while he was in prison?
LEARN 3000 WORDS with DAYS IN LEVELS
Days in Levels is designed to teach you 3000 words in English. Please follow the instructions
below.
How to improve your English with Days in Levels: 

Test
Do the test at Test Languages.
Go to your level. Go to Level 1 if you know 1-1000 words. Go to Level 2 if you know 1000-2000 words. Go to Level 3 if you know 2000-3000 words.

Reading
Read two new articles article at Days in Levels every day.
Read one previous article too and check if you remember all new words.

Listening
Listen to the new article and read the text at the same time.
Listen to the new article without reading the text.

Writing
Answer the question under the new article and write your answer in the comments.