The day Adolf Hitler died – level 1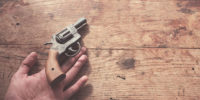 30-04-1945
Germany loses the battle at Stalingrad in 1943. After this loss, Adolf Hitler starts to change. He is more nervous. His left hand is shaking.
Difficult words: survive (to live after an accident), health (the situation of your body), bunker (a place underground which is difficult to destroy), still (when something continues), poison (a thing which can kill you if you eat it), will (a document which says what must happen with your money after you die), shot (the sound of a gun).
What are some other ways Adolf Hitler's personality and outlook changed after the loss at Stalingrad?
LEARN 3000 WORDS with DAYS IN LEVELS
Days in Levels is designed to teach you 3000 words in English. Please follow the instructions
below.
How to improve your English with Days in Levels: 

Test
Do the test at Test Languages.
Go to your level. Go to Level 1 if you know 1-1000 words. Go to Level 2 if you know 1000-2000 words. Go to Level 3 if you know 2000-3000 words.

Reading
Read two new articles article at Days in Levels every day.
Read one previous article too and check if you remember all new words.

Listening
Listen to the new article and read the text at the same time.
Listen to the new article without reading the text.

Writing
Answer the question under the new article and write your answer in the comments.