The day Adolf Eichmann was convicted – level 2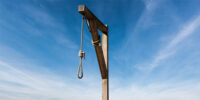 15-12-1961
Adolf Eichmann was a Nazi, and one of the main organizers of the Holocaust during World War II. He organized the transport of many European Jews to the gas chambers.
When the war was over, Eichmann decided to run away to Argentina, and he started a new life there. His wife and three children also came to Argentina.
Nobody knew about Adolf Eichmann for years. Then, a girl from a Jewish family in Buenos Aires, Argentina, was going out with a young man with the same surname, Eichmann. She started to think that his father might be a former Nazi. The Nazi hunters got this information.
Israel sent special agents to Argentina. They caught Eichmann and transported him secretly to Israel. He was taken to court. Eichmann was found guilty of many crimes. On December 15, 1961, he got a sentence – death penalty by hanging.
Difficult words: Nazi (a member of the National Socialist Party in Germany), Holocaust (the killing of millions of Jews and other people by the Nazis), chamber (a room used for a special purpose or reason), surname (a last name), former (past), Nazi hunter (a person who tries to find former Nazis), guilty (responsible for a crime), sentence (a punishment given by a judge).
What was the identity of the young man with the same surname as Eichmann who his Jewish friend was dating and ultimately helped in locating Eichmann?
LEARN 3000 WORDS with DAYS IN LEVELS
Days in Levels is designed to teach you 3000 words in English. Please follow the instructions
below.
How to improve your English with Days in Levels: 

Test
Do the test at Test Languages.
Go to your level. Go to Level 1 if you know 1-1000 words. Go to Level 2 if you know 1000-2000 words. Go to Level 3 if you know 2000-3000 words.

Reading
Read two new articles article at Days in Levels every day.
Read one previous article too and check if you remember all new words.

Listening
Listen to the new article and read the text at the same time.
Listen to the new article without reading the text.

Writing
Answer the question under the new article and write your answer in the comments.