The day a private spaceship flew to space – level 3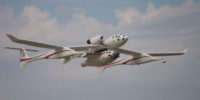 29-09-2004
X Prize was a space competition announced in 1995. It successfully challenged teams to build private spaceships capable of carrying three people and fly two times within two weeks beyond the boundary of outer space, which is considered to be 100 kilometers above sea level.
Twenty-six teams from around the world tried to win the prize, which was $10 million.
The first part of the prize requirements was fulfilled on September 29, 2004. The name of the spaceship was SpaceShipOne.
The second part of the prize requirements was completed on October 4, 2004.
As a result, $10 million was awarded to the winner, but more than $100 million was invested in new technologies in pursuit of the prize.
Difficult words: challenge (to invite somebody to enter a competition), beyond (further than a particular distance), boundary (a line that marks some limit), awarded (given as a prize), pursuit (the act of trying to get something).
What motivated the teams that competed in the X Prize competition to develop new technologies and invest in their projects?
LEARN 3000 WORDS with DAYS IN LEVELS
Days in Levels is designed to teach you 3000 words in English. Please follow the instructions
below.
How to improve your English with Days in Levels: 

Test
Do the test at Test Languages.
Go to your level. Go to Level 1 if you know 1-1000 words. Go to Level 2 if you know 1000-2000 words. Go to Level 3 if you know 2000-3000 words.

Reading
Read two new articles article at Days in Levels every day.
Read one previous article too and check if you remember all new words.

Listening
Listen to the new article and read the text at the same time.
Listen to the new article without reading the text.

Writing
Answer the question under the new article and write your answer in the comments.