The day a computer beat the best chess player – level 1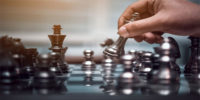 11-05-1997
It is 1996. IBM builds a very strong computer. The computer can play chess. The computer plays against Garry Kasparov. Garry Kasparov is the best chess player.
Garry Kasparov wins the first match.
In 1997, they play the second match. The computer wins the second match. It is a big success for IBM. After the victory, IBM sells more products.
Difficult words: IBM (a technology company), chess (a board game), success (a situation when you get what you want), victory (a moment when you win).
What implications does the success of IBM's computer have for the development of artificial intelligence technology?
LEARN 3000 WORDS with DAYS IN LEVELS
Days in Levels is designed to teach you 3000 words in English. Please follow the instructions
below.
How to improve your English with Days in Levels: 

Test
Do the test at Test Languages.
Go to your level. Go to Level 1 if you know 1-1000 words. Go to Level 2 if you know 1000-2000 words. Go to Level 3 if you know 2000-3000 words.

Reading
Read two new articles article at Days in Levels every day.
Read one previous article too and check if you remember all new words.

Listening
Listen to the new article and read the text at the same time.
Listen to the new article without reading the text.

Writing
Answer the question under the new article and write your answer in the comments.