The day the first man climbed all mountains over 8000 meters – level 3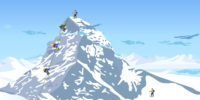 16-10-1986
Some sports performances go far beyond the boundaries of sport and become legends or even milestones in the development of humanity.
When Edmund Hillary was the first man to climb Mount Everest in 1953, it seemed that no other climber would go down in the history for a similar achievement. Then something extraordinary happened in 1986.
On October 16, world agencies reported that Reinhold Messner from Italy had conquered the summit of the world's fourth highest mountain, Lhotse. It was special because this mountain was the fourteenth and last peak above 8,000 meters that Messner conquered.
He was the first to do this, confirming the reputation of the best climber of all time. It took him 16 years to conquer all eight-thousanders.
Messner's first and most tragic eight-thousander was Nanga Parbat. He reached the top together with his younger brother Gunther. During the descent, the brothers separated in bad weather. Messner appeared in the valley after 6 days, completely exhausted and so frozen that 7 of his toes had to be amputated. His brother Gunther died.
Difficult words: boundaries (the limits), extraordinary (very unusual), peak (the very top), conquer (succeed in climbing to the top of a mountain), descent (going down).
How did Reinhold Messner manage to become the first person to conquer all eight-thousanders, despite the death of his brother Gunther on their descent of Nanga Parbat?
LEARN 3000 WORDS with DAYS IN LEVELS
Days in Levels is designed to teach you 3000 words in English. Please follow the instructions
below.
How to improve your English with Days in Levels: 

Test
Do the test at Test Languages.
Go to your level. Go to Level 1 if you know 1-1000 words. Go to Level 2 if you know 1000-2000 words. Go to Level 3 if you know 2000-3000 words.

Reading
Read two new articles article at Days in Levels every day.
Read one previous article too and check if you remember all new words.

Listening
Listen to the new article and read the text at the same time.
Listen to the new article without reading the text.

Writing
Answer the question under the new article and write your answer in the comments.