The day the mutiny on Bounty started – level 1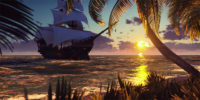 28-04-1789
It is December 1787. The British ship Bounty goes from England to Tahiti. The captain of the ship is William Bligh.
In Tahiti, the sailors are happy. They have a lot of food. They have free time. They can be with Tahitian women. They spend 5 months there. Then they go to Jamaica.
At sea, the men must return to hard work. It is difficult. Some men start to be angry.
It is April 28, 1789. The angry sailors start a mutiny. Some of the sailors do not join the mutiny. 18 men want to stay with the captain. The men and the captain must go on a boat. The boat is in the middle of the ocean.
Bligh tries to take his men to a safe place. After six weeks at sea, they are safe.
The mutineers return to Tahiti. Then, they continue to a small island in the Pacific Ocean. They have some Tahitian women with them. They start to live there. They have children.
Their families still live on the island.
Difficult words: sailor (a person who works on a ship), mutiny (a rebellion on a ship), mutineer (a person who starts a mutiny), still (when something continues).
What do you think about this day?
LEARN 3000 WORDS with DAYS IN LEVELS
Days in Levels is designed to teach you 3000 words in English. Please follow the instructions
below.
How to improve your English with Days in Levels: 

Test
Do the test at Test Languages.
Go to your level. Go to Level 1 if you know 1-1000 words. Go to Level 2 if you know 1000-2000 words. Go to Level 3 if you know 2000-3000 words.

Reading
Read two new articles article at Days in Levels every day.
Read one previous article too and check if you remember all new words.

Listening
Listen to the new article and read the text at the same time.
Listen to the new article without reading the text.

Writing
Answer the question under the new article and write your answer in the comments.