The day the fog began to kill – level 3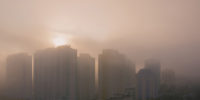 04-12-1952
It's the beginning of December 1952, and there is a Christmas atmosphere in London. Fog also starts to come to London. It's normal to experience fog around this time of the year, but the fog that starts to cover London at the beginning of December is different. It is thicker and darker than the previous ones.
There are several reasons for this fog. London has a population of almost 9 million, and most of the people use low-quality coal for heating. The same low-quality coal is used in power plants. In addition to this, six months ago, the town hall cancelled all trams and replaced them by diesel buses. Temperatures drop to zero and there is no wind.
On December 4, 1952, the fog is already so dark and thick that visibility is just 2 meters. Drivers go very slowly. The air is full of dangerous chemicals. Pedestrians must cover their faces.
On the third day, when visibility drops to half a meter, traffic stops completely, except for the underground. People who have the courage to go out can no longer see their own feet. Cinemas and theatres cancel performances because the fog starts to penetrate buildings. There is nowhere to hide from it.
After 5 days, the wind finally comes. When the air is clear again, people find out that the fog killed 4,000 people, mostly children and older people who were suffering from respiratory diseases.
These 5 days are the worst non-war catastrophe in the history of Great Britain.
Difficult words: coal (a hard black mineral which people burn to produce heat), power plant (a building where electricity is made), town hall (a building where a town or city's local government is), visibility (the distance you can see), pedestrian (a person who is walking in a street), penetrate (go inside), respiratory (connected to breathing).
What do you think about this day?
LEARN 3000 WORDS with DAYS IN LEVELS
Days in Levels is designed to teach you 3000 words in English. Please follow the instructions
below.
How to improve your English with Days in Levels: 

Test
Do the test at Test Languages.
Go to your level. Go to Level 1 if you know 1-1000 words. Go to Level 2 if you know 1000-2000 words. Go to Level 3 if you know 2000-3000 words.

Reading
Read two new articles article at Days in Levels every day.
Read one previous article too and check if you remember all new words.

Listening
Listen to the new article and read the text at the same time.
Listen to the new article without reading the text.

Writing
Answer the question under the new article and write your answer in the comments.