The day the first website was published – level 1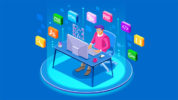 06-08-1991
Tim Berners-Lee is born in 1955. He is from London. His parents like computers. Tim likes computers too. Tim makes his first computer when he is a student.
After his university, he works in Switzerland. In 1980, he makes a program which connects two computers in one company. It is fantastic.
Tim wants more. He wants to connect computers all around the world. He makes a new program which can connect all computers.
It is August 6, 1989. Tim publishes the first website on the Internet. It is the beginning of something new. Thanks to his work, today we can get information from computers all around the world.
Difficult words: connect (to put two things together), publish (to give official information), website (a place on the Internet with information about one organization or thing).
What is the title of the first website published on the Internet by Tim Berners-Lee?
LEARN 3000 WORDS with DAYS IN LEVELS
Days in Levels is designed to teach you 3000 words in English. Please follow the instructions
below.
How to improve your English with Days in Levels: 

Test
Do the test at Test Languages.
Go to your level. Go to Level 1 if you know 1-1000 words. Go to Level 2 if you know 1000-2000 words. Go to Level 3 if you know 2000-3000 words.

Reading
Read two new articles article at Days in Levels every day.
Read one previous article too and check if you remember all new words.

Listening
Listen to the new article and read the text at the same time.
Listen to the new article without reading the text.

Writing
Answer the question under the new article and write your answer in the comments.