The day the first person reached the North Pole – level 1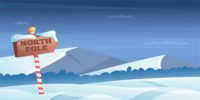 06-04-1909
Some people believe that the first man at the North Pole is Robert Peary in 1909. Here is his story.
Robert Peary is a good explorer. He has a lot of experience.
When Peary is fifty years old, he wants to go to the North Pole. He prepares a big expedition. The expedition has 90 people and 250 dogs. They must go 800 kilometers to the pole.
When they are at a distance of 250 km from the pole, Peary sends home many explorers. He continues with 5 assistants. On April 6, 1909, he tells his assistants that they are at the North Pole. He takes a photo of his group.
After many years, a man who studies his diary finds some mistakes in it. The mistakes show that Peary probably isn't the first person at the North Pole.
The first person who comes to the North Pole on foot is probably Wally Herbert in 1969.
Difficult words: explorer (somebody who travels through a new area), experience (things with you know because you did some activity), diary (a book in which you write a story of your life), probably (very possible), on foot (when you walk).
What do you think about this day?
LEARN 3000 WORDS with DAYS IN LEVELS
Days in Levels is designed to teach you 3000 words in English. Please follow the instructions
below.
How to improve your English with Days in Levels: 

Test
Do the test at Test Languages.
Go to your level. Go to Level 1 if you know 1-1000 words. Go to Level 2 if you know 1000-2000 words. Go to Level 3 if you know 2000-3000 words.

Reading
Read two new articles article at Days in Levels every day.
Read one previous article too and check if you remember all new words.

Listening
Listen to the new article and read the text at the same time.
Listen to the new article without reading the text.

Writing
Answer the question under the new article and write your answer in the comments.