The day Princess Diana died – level 1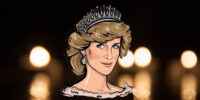 31-08-1997
Diana is Princess of Wales. Her husband is Prince Charles. Diana and Charles aren't happy together. They divorce in 1996.
After the divorce, Diana continues her charity work. She meets Dodi Fayed. Dodi is from Egypt. He is from a rich family.
It is August 31, 1997. Diana and Dodi are in Paris. They are happy together. After midnight, they go by taxi through Paris. Photographers follow them. They want to take pictures of Diana and Dodi together.
The car with Diana and Dodi goes really fast. The speed is 105 kilometers per hour. The car hits a wall in one of the tunnels. Dodi and the driver are dead. Diana is fighting for her life. She dies in hospital.
Difficult words: divorce (people are divorced when they end their marriage), charity (an organization which helps poor people), follow (to go behind somebody), speed (information about how fast something goes).
What motivated Diana to continue her charity work after the divorce and why was she so determined to pursue this work?
LEARN 3000 WORDS with DAYS IN LEVELS
Days in Levels is designed to teach you 3000 words in English. Please follow the instructions
below.
How to improve your English with Days in Levels: 

Test
Do the test at Test Languages.
Go to your level. Go to Level 1 if you know 1-1000 words. Go to Level 2 if you know 1000-2000 words. Go to Level 3 if you know 2000-3000 words.

Reading
Read two new articles article at Days in Levels every day.
Read one previous article too and check if you remember all new words.

Listening
Listen to the new article and read the text at the same time.
Listen to the new article without reading the text.

Writing
Answer the question under the new article and write your answer in the comments.