The day of the Norway attacks – level 2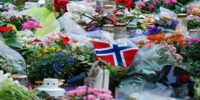 22-07-2011
Anders Breivik was from Norway. He was 32 years old. He hated Muslims. The number of Muslim immigrants in Norway was going up at the beginning of the 21st century. Breivik decided to do something about it. He decided to attack the political party which allowed immigration. He was working on his plan for nine years.
He had a gun license, so he bought his weapons legally. He also planned to build a big bomb. He bought the chemicals over the Internet. He rented a farm where he put his bomb together.
On July 22, 2011, Breivik got into his car and went to the capital, Oslo. He had about 950 kilograms of explosives in the car. He parked the car in front of the building where the office of the Prime Minister was.
The bomb exploded in 9 minutes. Eight people died on the spot, and more than 200 were injured.
Then, Breivik went to the island of Utoya, which was located in the middle of a lake. There were about 600 people at the summer camp on the island. The camp was organized by the leading political party.
When Breivik arrived at the island, he pretended to be a police officer. Soon, he started shooting at all people. He killed 69 of them, mostly teenagers.
Difficult words: allow (to let something happen), explosive (a material which can start an explosion), spot (a place), leading (the most important), pretend (to try to show that you are somebody else than who you are), mostly (most of them).
What do you think about this day?
LEARN 3000 WORDS with DAYS IN LEVELS
Days in Levels is designed to teach you 3000 words in English. Please follow the instructions
below.
How to improve your English with Days in Levels: 

Test
Do the test at Test Languages.
Go to your level. Go to Level 1 if you know 1-1000 words. Go to Level 2 if you know 1000-2000 words. Go to Level 3 if you know 2000-3000 words.

Reading
Read two new articles article at Days in Levels every day.
Read one previous article too and check if you remember all new words.

Listening
Listen to the new article and read the text at the same time.
Listen to the new article without reading the text.

Writing
Answer the question under the new article and write your answer in the comments.