The day of the First Geneva Convention – level 2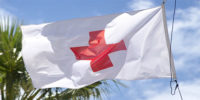 22-08-1864
In 1859, there was a war between France and Austria. On June 24, the most important battle of the war happened in the north of Italy.
Shortly after the battle, the Swiss businessman Henry Dunant arrived there. He was shocked when he saw a battlefield with thousands of injured soldiers on both sides. Nobody cared about them. They were in pain and many died under horrible conditions.
Dunant started to organize help for the injured soldiers. He asked the local people for help. He was telling people that they were all brothers and that all injured men deserved help.
When Dunant returned to Geneva, Switzerland, he wanted to organize an international conference that could improve the situation of soldiers who were injured in a war.
On August 22, 1864, the Swiss government invited the governments of other countries to Geneva. The meeting was successful. Twelve states signed a convention.
Difficult words: care (to be interested in somebody), conditions (the situation in which you are), deserve (to have a right to get something because you worked for it), convention (an official agreement).
What obstacles did Dunant face in organizing help for the injured soldiers on the battlefield?
LEARN 3000 WORDS with DAYS IN LEVELS
Days in Levels is designed to teach you 3000 words in English. Please follow the instructions
below.
How to improve your English with Days in Levels: 

Test
Do the test at Test Languages.
Go to your level. Go to Level 1 if you know 1-1000 words. Go to Level 2 if you know 1000-2000 words. Go to Level 3 if you know 2000-3000 words.

Reading
Read two new articles article at Days in Levels every day.
Read one previous article too and check if you remember all new words.

Listening
Listen to the new article and read the text at the same time.
Listen to the new article without reading the text.

Writing
Answer the question under the new article and write your answer in the comments.