The day World War I started – level 1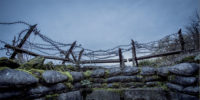 28-07-1914
In 1914, countries in Europe are in two groups. Germany, Austria-Hungary, and Italy are in one group. France, Russia, and Britain are in the second group.
On July 28, 1914, a future Austrian king is killed in Sarajevo. Austria starts to prepare for a war with Serbia. Russia wants to help Serbia. A big war starts in Europe between the two groups.
The war is also in the countries' colonies. Japan and the United States also start to fight in the war.
The war ends in November 1918. 10 million people die in the war.
Difficult words: killed (when somebody's life is ended by another person), colony (a country under the control of another country).
What impact did the World War I have on modern geopolitics?
LEARN 3000 WORDS with DAYS IN LEVELS
Days in Levels is designed to teach you 3000 words in English. Please follow the instructions
below.
How to improve your English with Days in Levels: 

Test
Do the test at Test Languages.
Go to your level. Go to Level 1 if you know 1-1000 words. Go to Level 2 if you know 1000-2000 words. Go to Level 3 if you know 2000-3000 words.

Reading
Read two new articles article at Days in Levels every day.
Read one previous article too and check if you remember all new words.

Listening
Listen to the new article and read the text at the same time.
Listen to the new article without reading the text.

Writing
Answer the question under the new article and write your answer in the comments.