The day of the Kursk submarine disaster – level 3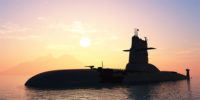 12-08-2000
On August 12, 2000, the Russian submarine Kursk was in the Barents Sea. There were 118 men on board.
During a naval exercise, a training torpedo exploded inside the submarine. The submarine started sinking. When it reached the seafloor two minutes later, there was another, much stronger explosion, in which five other torpedoes exploded.
Many sailors died in the second explosion, but 23 men survived in one section of the submarine. Unfortunately, a fire broke out in this section, taking the last oxygen from this area. All 118 men on board the submarine died.
Difficult words: submarine (a ship that can stay underwater), naval (connected to an army that fights at sea), break out (to start to happen).
What do you think were the consequences of this tragedy, both politically and socially, for Russia?
LEARN 3000 WORDS with DAYS IN LEVELS
Days in Levels is designed to teach you 3000 words in English. Please follow the instructions
below.
How to improve your English with Days in Levels: 

Test
Do the test at Test Languages.
Go to your level. Go to Level 1 if you know 1-1000 words. Go to Level 2 if you know 1000-2000 words. Go to Level 3 if you know 2000-3000 words.

Reading
Read two new articles article at Days in Levels every day.
Read one previous article too and check if you remember all new words.

Listening
Listen to the new article and read the text at the same time.
Listen to the new article without reading the text.

Writing
Answer the question under the new article and write your answer in the comments.