The day of the Great Train Robbery – level 1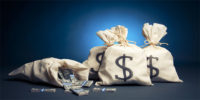 08-08-1963
It is August 8, 1963. A train goes from Glasgow to London, England. The train carries post or mail and also £2.6 million. At the same time, 16 men are preparing to attack the train. They have a very clever plan.
The train is going through the fields. The men use a false red light. The train stops.
Then, the men attack the train. They take the train to a nearby bridge. They put 128 bags with money in a car. It is waiting under the bridge.
After the robbery, the men hide at a nearby farm. The police start to look for them. When the police come to the farm, the men aren't there. Their fingerprints are still there. Now, the police know the men because the men were in prison before.
The men try to hide in a different place. Then the police find them all. The leaders go to prison for 30 years.
Difficult words: carry (to take from one place to another place), false (not real), robbery (a moment when people steal money), fingerprint (a mark which your finger makes).
What methods did the police use to track down and identify the robbers after the train robbery?
LEARN 3000 WORDS with DAYS IN LEVELS
Days in Levels is designed to teach you 3000 words in English. Please follow the instructions
below.
How to improve your English with Days in Levels: 

Test
Do the test at Test Languages.
Go to your level. Go to Level 1 if you know 1-1000 words. Go to Level 2 if you know 1000-2000 words. Go to Level 3 if you know 2000-3000 words.

Reading
Read two new articles article at Days in Levels every day.
Read one previous article too and check if you remember all new words.

Listening
Listen to the new article and read the text at the same time.
Listen to the new article without reading the text.

Writing
Answer the question under the new article and write your answer in the comments.