The day Martin Luther King was killed – level 1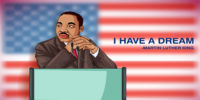 04-04-1968
In 1955, the situation isn't good for black people in the south of the United States. They don't have the same rights as white people.
There are many racist rules. There are separate restaurants, toilets, and shops. There are also special rules for white people and black people in public transport.
Martin Luther King is 26 years old. He wants to change the situation. He speaks to other black people. He tells them that they need to fight. He doesn't want any violence. He wants only peaceful protests.
Black people stop using public transport. It is their form of protest. They want to stop the racist rules. It takes a whole year. Then the rules are stopped. King is very happy.
Another success comes in 1963. King organizes a big demonstration in Washington. One year later, the government makes a new law. The law says that all people have the same rights. King gets the Nobel Peace Prize for his work.
In 1968, King goes to Memphis where he speaks to people again. The next day, on April 4, 1968, a man shoots him at a hotel where he is staying. King is injured. The situation is bad. He dies one hour later in hospital.
Difficult words: right (something that you can officially do), racist (a person who believes in racism), separate (not connected), violence (a physical activity when people destroy something), peaceful (quiet and calm), success (when you get what you want).
What do you think about this day?
LEARN 3000 WORDS with DAYS IN LEVELS
Days in Levels is designed to teach you 3000 words in English. Please follow the instructions
below.
How to improve your English with Days in Levels: 

Test
Do the test at Test Languages.
Go to your level. Go to Level 1 if you know 1-1000 words. Go to Level 2 if you know 1000-2000 words. Go to Level 3 if you know 2000-3000 words.

Reading
Read two new articles article at Days in Levels every day.
Read one previous article too and check if you remember all new words.

Listening
Listen to the new article and read the text at the same time.
Listen to the new article without reading the text.

Writing
Answer the question under the new article and write your answer in the comments.